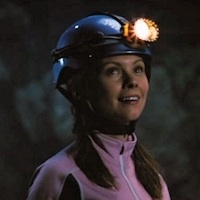 'I have done this before you know'                                      'I'm only looking out for you'                                                'And I appreciate it, in small doses'                                    Sam and Rebecca about to go caving
Sam is the youngest of the group and the sister of Rebecca.
Biography
Edit
Sam has finished training to be a doctor and is going to become one in a years time. She's also in a relationship with a guy name Josh.
The Descent
Edit
Write the second section of your article here. Don't forget to add a category, to help people find the article.